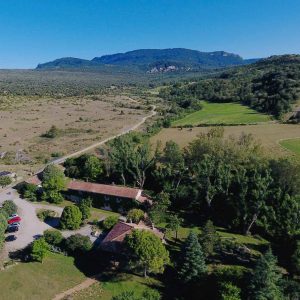 Les Labadous is a peaceful place. The name, in the old Occitan language, refers to cleansing. Many find a clean energy here, a calm that allows healing allows access to the essence beyond a busy life.
Centre Les Labadous offers nicely equipped rooms, studios and apartments. For groups, a large communal hall can seat up to 80.
The Center is situated in the valley south of Rennes-le-Château, along the "Ruisseau de Couleurs", bordered by huge black poplar trees.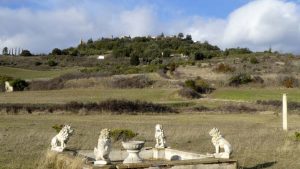 Rennes-le-Château is a small but renowned village, both for its location and a history that dates back to ancient times. Apart from fabulous views from the hilltop, it offers many attractions that evoke legends, old and new. Especially those surrounding Bérenger Saunière, the "million dollar priest". His heritage includes the Tour Magdala and Villa Bethania,, a lovely garden and the famous church dedicated to Mary Magdalene, with an odd statue of the devil (aka Asmodeus).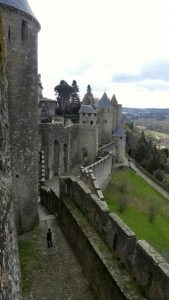 Centre Les Labadous is located in the middle of the "Pays Cathare", where landscapes of stark beauty and contrast invite you to explore. Springs and creeks harbour places of magical calm, such as Fontaine des Amours. Forests and open valleys offer an endless variety of walks. Famed mountains, such as the Pech Bugarach and Pech Cardou, add serious hiking with great views. Or you may want to explore one of the Cathar castles, a Medieval fortress, visit a quiet abbey or church, explore a cave, traverse an impressive gorge, lose yourself in a green labyrinth (or try not to)…
Some visitors are fascinated by sacred geometry, UFO sightings, the Knights Templar, the Holy Grail and the Arc of the Covenant… Inspired by the treasures and mysteries of Rennes-le-Château, over 600 books have been written about these topics. Included are  bestsellers like "The Holy Blood and the Holy Grail" and the "Da Vinci Code".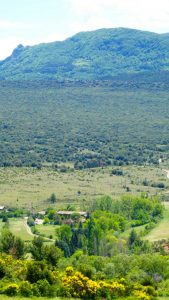 The natural surroundings of Rennes and Les Labadous are unspoiled. You may walk for hours without meeting anyone. And the food is wonderful, as are the wines, including rich reds, elegant rosés and crisp whites. For an apéro make sure you sample the famous Blanquette de Limoux.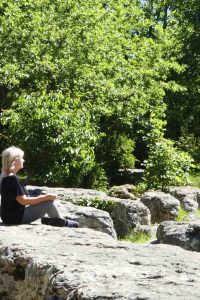 Centre Les Labadous welcomes you to this special place. A place to rest, to create, to heal and be healed, to meditate, to write or paint, to reflect on life, to find your destiny.
For more information please contact us.