Centre Les Labadous is ideally placed to explore the natural and cultural richness of the Pays Cathare. Walking trails in every direction will let you find safe outings adapted to your taste and ambition. We are happy to provide you with documentation for hikes and car outings, to make recommendations depending on seasons and weather conditions.
Many places of interest can be reached on foot right from Les Labadous.
Enjoy magnificent views on clear days, wander through open forests for hours, in serene quiet.
If needed we help you hire a local guide, for instance to find specific caves.
A wider range of outings is only a short drive (<20 km) from the Centre.
You might hike up to Mount Bugarach, where you see eagles circling above and below you.
Or take a short walk up to Château Bézu and then refresh yourself at the Fontaine des Amours or in the solitude of a mountain lake.
Or you get yourself immersed in the mystery of the Green Labyrinth at Nebias.
If you plan to take day trips by car from Les Labadous, these lead you through valleys lined by Cathar castles, perhaps into the Pyrenees or across the Gorges de Galamus into a one of the many Roussillon vineyards.
Along the way, consider stopping for a visit at a secluded monastery or abbey.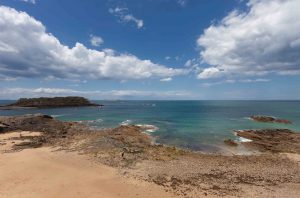 Or you head out for a day at one of the beaches and seaside villages along the Mediterranean.
Or … you leave some sights for a next time you return to Les Labadous.